What is the 4IR RSA Forum about?
Industry 4.0 and Digital Transformation are the hot topics in the industry. Many organisations (1) do not know how to "start the journey" and/or (2) how to make it work for their benefit and/or (3) why it applies to their businesses.




The key success factors for companies have changed. The new business environment is forcing them to rethink their strategies, organizational and business models, and their capabilities. To maintain their positions and grow, many companies are creating a community or becoming a part of a business ecosystem.




Why a business ecosystem?
For any company today, being a part of a business ecosystem provides mechanisms to leverage technology, achieve excellence in research and business competence, and compete against other companies.
Rather than resisting the change, the companies have to reshape and align their business goals and include a business ecosystem as being a part of one is crucial to success.
The goals and benefits of a business ecosystem.




Facilitate collaboration–It provides more options and better outcomes; the achievement lies beyond the capabilities of any individual actor, organization, or a group
Harness innovation–Successful businesses are those that evolve rapidly and effectively. Yet innovative businesses cannot evolve in a vacuum. Being a part of the business ecosystem means you have access to smart resources, innovators, and problem-solvers
Effective use of technology resources–Specialized resources and participants are more accessible. Digital technology and connectivity enable key business processes, which contribute to the growth of value, effective networking, and collaboration.
Speed up learning. In such a vibrant environment, users share insights, skills, expertise, and knowledge and over time facilitate the learning process.




What is the 4IR RSA Forum purpose?
The aim is to establish and maintain a trusted online community where Industry, large and small, can find information, help or services related to Industry 4.0 and Digital Transformation matters. Often it is not even about the technology at all. This forum is not limited to manufacturing companies only. You can view and find service and solution providers in the Participant Directory
To be, and to remain relevant, the Fourth Industrial Revolution South Africa (4IR RSA) forum will:
be open to any person and or organisation that wishes to contribute or take part in the discussion (s);
make use of, or become subject experts & facilitators to host the discussion sessions;
"advertise" topics for discussion and then select topics based on the need as expressed by members of the forum;
make use of collaboration technology as an enabler for all parties to have access to the discussions.
What can the 4IR RSA Forum assist you with?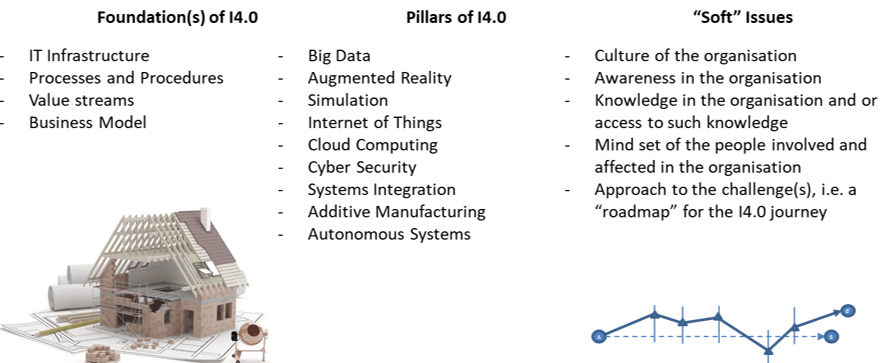 How do we do things?
We believe that Industry 4.0 requires an agile and pragmatic approach that simplifies the identification and definition of initiatives, the impediments, and the resulting value to the business, through the exploration and understanding of the customer's challenges, needs, strategies, and goals.
The 4IR RSA Forum will create value for everyone through the sharing and transferring of skills, knowledge, and experience in such a manner it provides insights to solve challenges and contributes to success and economic growth of businesses, our country South Africa and the African continent.




Some food for thought:
Quoting Claudio Perrone–www.agilesensei.com
Inertia is our enemy….
Continuous improvement cannot happen if there is no change….
If change is hard, make it continuous….
It's not what you do but also what you learn by doing it that matters….
Everybody is entitled to their own opinion, but a shared opinion is fact….
It's not "fail fast, fail often," it's "learn fast, learn often,"….
So? What is next?
This platform will serve as a centralised space to communicate and advertise industry-related events, articles, news and much more. By becoming part of our mailing list, you will stay informed. You may also send us a message should you wish to learn more about the 4IR RSA Forum, advertise or publish relevant information on this platform.




You may also wish to become part of the community, and we're glad you are already a member or are considering joining us. We think you are awesome!
There are many benefits to list on this platform. As a listed member of the 4IR RSA forum, you will:
Establish valuable business contacts.
Market yourself and your business capabilities.
Be informed of interesting, pertinent business events that keep you in tune with the global business environment.
Have access to a community of professionals providing services and solutions to solve challenges.