Suspected robbers shot and killed in N3 Marianhill Durban.
Durban – Members from the Task Force and NIU as well as well as Crime Intelligence members were following up information yesterday about a planned robbery at Bulwer area. They spotted a white Ford Ikon with four occupants at Bulwer area. The members kept observation and the suspects left the area taking the N3 towards Durban. While at N3 freeway near the toll plaza, the members attempted to stop the said vehicle with the help of K9 Unit. Three suspects were shot and killed and the fourth suspect was injured and taken to hospital. Rifles and handguns were recovered.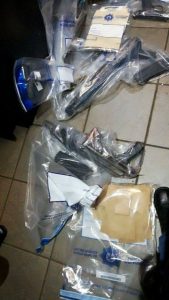 At Mpophomeni area, suspects from the same group, were about to commit robbery at Bulwer in two vehicles. While driving at Boston and Bulwer Road, the other group of Task Force members followed them. They tried to stop the vehicles and suspects opened fire. Six suspects were killed and one injured. Rifles and handguns recovered from the vehicles.