SUSPECTS DEALING IN ILLEGAL FIREARMS ARRESTED
MEDIA STATEMENT ISSUED BY THE SOUTH AFRICAN POLICE SERVICE.
Pretoria: 03 December 2017 – Two suspects, were arrested in the early hours of yesterday morning during an intelligence driven tactical operation comprising of various disciplines of the SAPS both from the police Head Office as well as Limpopo Tracking team.
The team followed up on intelligence that two suspects, aged 17 and 35 years were smuggling arms into South Africa through the border near Komatipoort area of Mpumalanga. When the suspects were confronted, it emerged that they were intending to sell the firearms to a prospective buyer.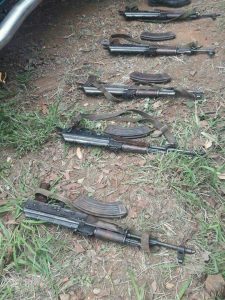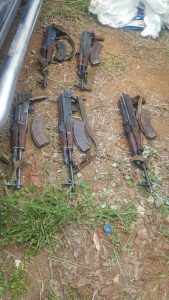 A total of seven (7) illegal AK47 rifles, 180 rounds of ammunition and a Toyota Hilux double cab bakkie were recovered. During the arrest and recovery an AK47 was recovered fastened against the exhaust system underneath his vehicle. The firearms have been taken to Forensic Science laboratories for ballistic testing. The two suspects will appear tomorrow on charges of smuggling and dealing in illegal firearms in the Komatipoort Magistrate's court.
These are some of the weapons used to commit aggravated robberies such as cash-in-transit heists, vehicle hi-jacking as well as house and business robberies. This a significant breakthrough to our efforts to nip these categories of robberies in the bud.



The National Commissioner, Lieutenant General Khehla Sitole has welcomed these arrests DNS recoveries, praising the intelligence team for excellent work. "The issue of the proliferation of arms and ammunition forms part of our six-pillar approach during this festive season", said General Khehla John Sitole. "Our police officers are being deployed strategically in various areas of our country to ensure that people are and feel safe", said General Sitole.
We urge the people of South Africa to continue supporting the police in its efforts to bring down the scourge of crime because together we can do more.
Enquiries: Brigadier Vishnu Naidoo – 082 567 4153