In a shocking incident at the Total Garage located at the intersection of Rev Namane and Flint Mazibuko Streets Hospital View Tembisa a brazen group of approximately twenty heavily armed suspects including two women carried out a daring ATM and dropsafe bombing operation.
The audacious heist unfolded when the suspects utilizing four vehicles targeted the ATM and dropsafe with explosive force. The deafening blast drew the attention of a passing Tembisa police patrol vehicle. However the situation took a dire turn as the suspects opened fire on the police injuring the driver in the right leg.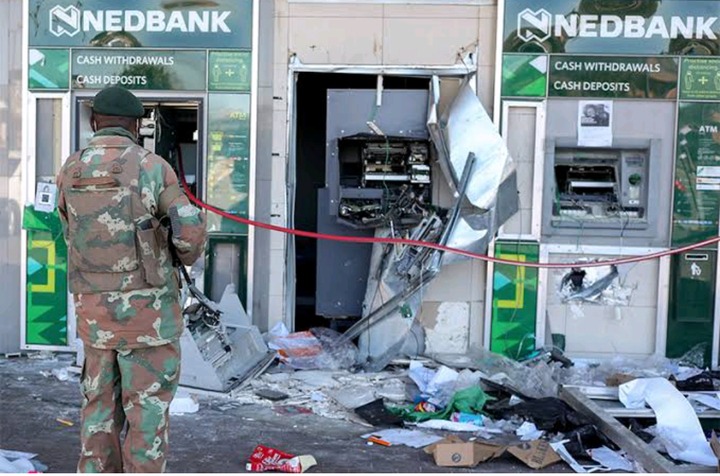 Despite the wounded officer swift response in driving off and calling for backup the reinforcements a patrol vehicle from Ivory Park SAPS faced a barrage of gunfire upon arrival. The suspects seemingly undeterred blocked the police vehicle prompting officers to alight and engage in a fierce exchange of gunfire.
Tragically one police officer paid the ultimate price, succumbing to fatal injuries sustained during the confrontation. The severity of the incident underscores the dangers faced by law enforcement officers in their daily efforts to maintain public safety.
As investigations unfold the Total Garage heist serves as a stark reminder of the persistent challenges posed by criminal elements in our communities urging authorities to enhance security measures and cooperation to combat such acts of violence.
Total Garage, corner Rev Namane and Flint Mazibuko Streets, Hospital View, Tembisa:

About twenty heavily armed supects, including two ladies, using four vehicles, bombed an ATM and dropsafe.

Shortly after the explosion, a police patrol vehicle from Tembisa drove past the…

— Yusuf Abramjee (@Abramjee) November 17, 2023