The R15 million Lessyton stadium was officially opened yesterday with many Jubilant community members gathering, the sports field is mainly for rugby and soccer players. South African citizens especially Nyiko Floyd Shivambu, who is a South African politician serving as a member of parliament for the Economic Freedom Fighters. He feels like the ANC should be removed from power because they do not know what they are doing, he feels like the ANC is playing with people's minds because there is no way such a stadium like this would cost R15 million.





There is too much corruption that is going on in the country especially when it comes to the ruling party, the government officials are very fraudulent and corrupt in a way that ends up disrupting the economic activities. That's the main reason why they fail to build anything right, because they use the funds for their own personal desires. This one of the things that they were supposed built but they failed to do it right, they are well-known for leaving projects half done.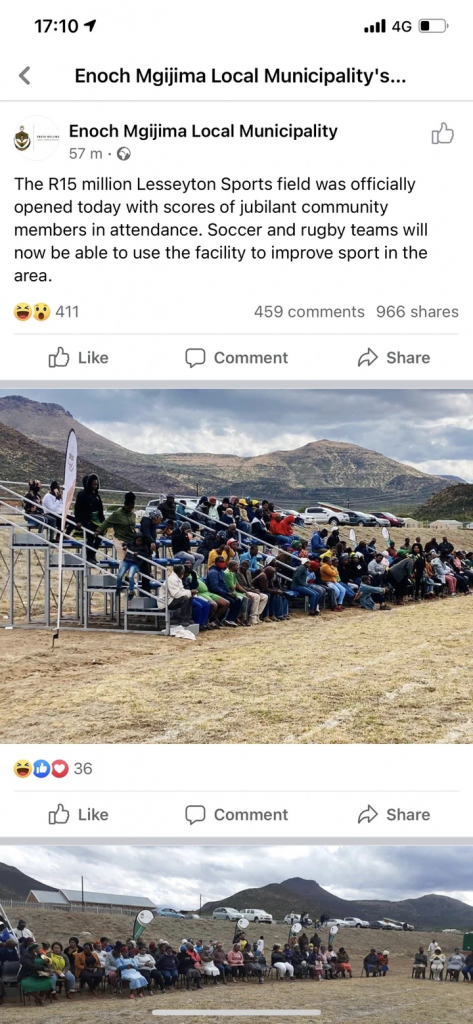 There are some areas that are still using pit latrines despite the fact that they have killed a lot of children who fell inside, the government is still failing to fix such a small matter but they choose to jump into bigger things which they also fail to do. Now South African citizens are very confused because the opposing parties are all offering almost the same thing, the main thing that they are promising to do is change the way they ANC has left the country's state.



An ANC Municipality in the Eastern Cape, Enoch Mgijima has opened what they call a stadium… R15 MILLION was paid to build this thing & they are proud of it. The people of South Africa must vote these people out of power because they have no shame. None whatsoever! R15m for this? pic.twitter.com/tFJvuFIPo5

— Floyd Shivambu (@FloydShivambu) October 4, 2021


At the end of the day people fear that the opposing parties might do the same thing that the ANC did, the ANC promised people a lot of things which they failed to deliver and this is something about government officials. They promised big things when they want votes then once they get them, they forget about the very same people who voted for them.