Malusi Gigaba is failing to manage his home affairs and his ex-wife, Thabong Nxumalo couldn't be happier.
The former minister's marriage is currently skating on thin ice and is keeping South African talking on social media. You'd know that Malusi has had a lot of cheating scandals in the past.





Just to mention a few, he dated Buhle Mkhize and a video of his manhood once went viral. In all these his wife Norma has been protecting him but now things have changed.
We've recently witnessed how the two scrubbed each other off social media to make things more interesting a video of Malusi's G-Wagon was leaked. Now, you might be asking why is a video of a G-Wagon interesting.
Well, sources close to him have disclosed that he was caught cheating red-handed! On Sunday Norma could bear it no more and went all Beyoncé Lemonade Style' on his expensive toy.





Yes, she wrecked Gigaba's G63 AMG, unfortunately for the couple, the video landed in wrong hands, which saw it trending on social media.
And the first person who jubilated to this news was his ex-wife who took to her social media to say that Malusi is getting a taste of his own medicine. Thabong Nxumalo to her Instagram to post a pic of her happy self and captioned it: " Karma has no menu. You get served what you deserve." She is also posted a pic message that says don't waste your time on revenge. Those who hurt you will eventually face their own karma.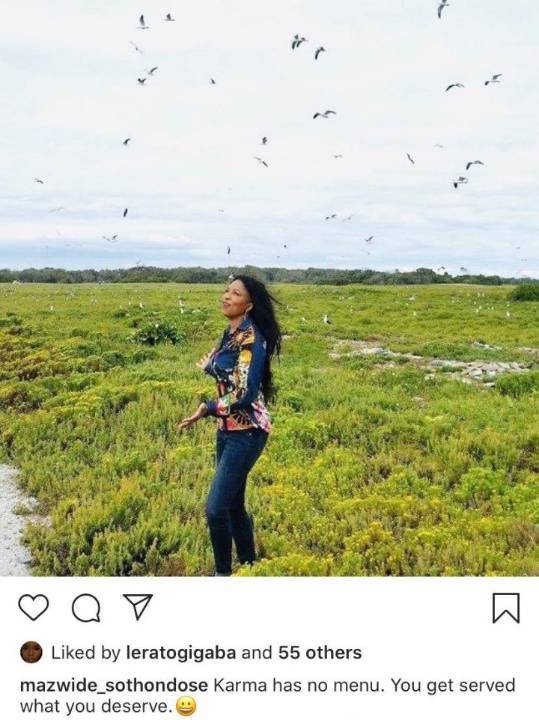 Gigaba's ex-wife Instagram
To our surprise, the pic she posted was liked by his daughter Lerato Gigaba…Hebanna! You'd remember that in 2010 Thabong filed for a protection order against Malusi Gigaba accusing him of of "emotional, financial and psychological abuse."
We do hope the minister will be able to manage his home affairs well this time around.