New Couple Alert: Zola Nombona and Thomas Gumede are expecting bundle of joy
The cat is finally out of the bag, parenthood is beckoning for popular Mzansi Celebs Zola Nombona and Thomas Gumede, the couple announced that they are expecting a baby. The actress (Zola) shared her baby bump on her Instagram in February. Despite the outbreak of Covid-19, which has disrupted a lot of people's plans and goals, it does not mean that they cannot celebrate their gift of the upcoming bundle of joy.





In a long and poetic sweet post, Zola could not contain her excitement about her pregnancy. She praised the arrival of her unborn child and spoke about how deeply she loves her baby. In a gorgeous snap, showing off her baby pump, Zola expressed how blessed she feels to have a baby.



While Zola was rumoured to be dating Lockdown producer Mandla N last year. This was after she sent a birthday shout out to producer and actor which raised a couple of eyebrows, speculating that the pair might actually be in a relationship.





The beautiful couple Zola Nombona and Thomas Gumede are expecting their first child and they are beaming with pride already. The producer and actor took to his social media to make the big announcement, sharing heartwarming message followed by pregnancy ultrasound scan photos with Zola Nombona's name.
Thomas reflected back to the day when his girlfriend ( Zola Nombona ) told him that she was pregnant and said, he had mixed emotions. The actor has made a promise to his child that he will be a great father and take care of him.
He also said he cannot wait to meet him.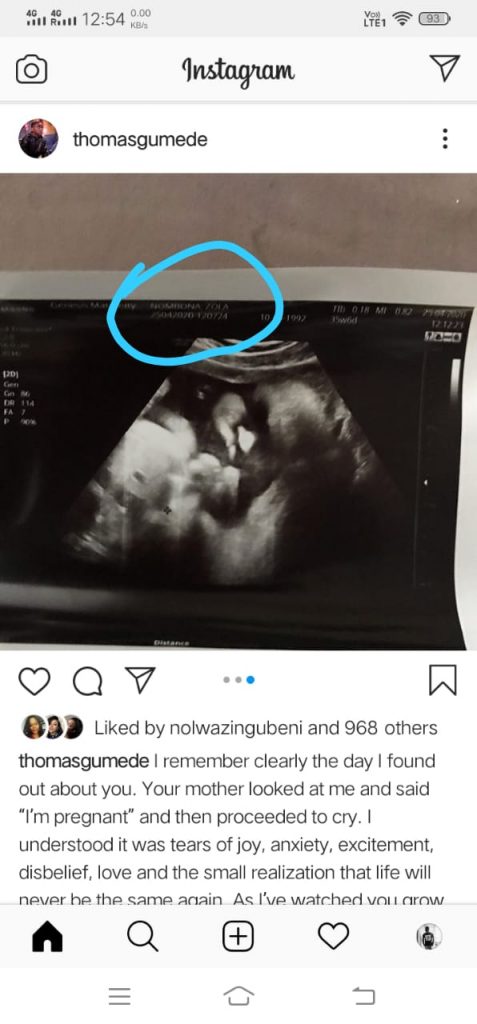 I remember clearly the day I found out about you. Your mother looked at me and said "I'm pregnant" and then proceeded to cry. I understood it was tears of joy, anxiety, excitement, disbelief, love and the small realization that life will never be the same again. pic.twitter.com/ZhUM0BW3bI

— Thomas Gumede (@ThomasGumede) May 19, 2020
Congratulatory messages have been pouring in for the couple and although they have not revealed when their bundle of joy will be making his/her grand entry, it looks like it will be pretty soon!