Watch: Cuban Medical Doctors Arrive In South Africa To Help Fight Covid-19
– A team of doctors from Cuba arrive in South Africa on Sunday to assist on the frontlines in the fight against COVID-19.
– Covid-19 infections rise to 4,546 as Mkhize welcomes Cuban doctors
– There has been one additional death, taking the total to 87.





In a statement on Sunday, Health Minister Zweli Mkhize said the total number of confirmed Covid-19 cases in South Africa had risen to 4546.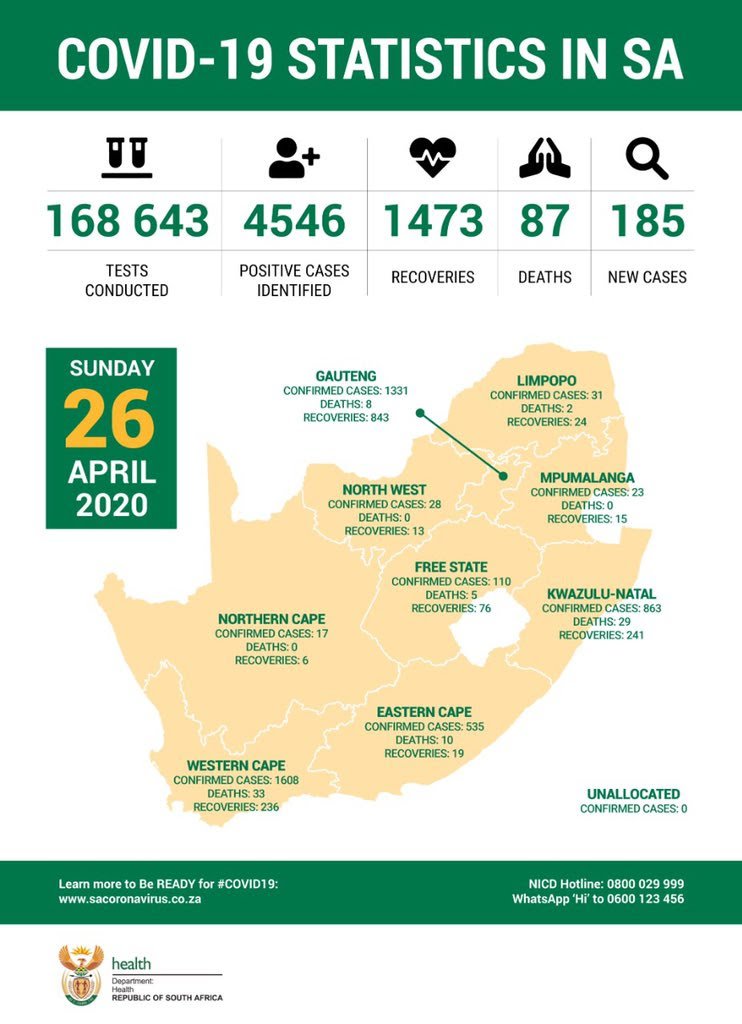 The total number of tests conducted to date was at 168,643, of which 7,639 were done in the last 24 hours.
The provincial breakdown was as follows:
There was only one more Covid-19-related death, in the Western Cape, which increased the total number of deaths to 87. He conveyed condolences to the family and appreciated the frontline workers who treated this patient.


Welcoming Cuban Medical experts we have just landed in SA to help support it efforts to fight COVID19. https://t.co/lwRSEru9u4

— Minister Jackson Mthembu (@JacksonMthembu_) April 26, 2020
An emergency contingent of 217 Cuban doctors arrived in South Africa on Sunday 26 April to assist healthcare officials in stemming the spread of COVID-19 in the country.





Deployed in different provinces
The members of the so-called "medical brigade" include Cuban family physicians, epidemiologists, biologists, healthcare technology experts, engineering experts, biotechnology experts and other specialists, the Cuban embassy announced in a statement.
— Minister Jackson Mthembu (@JacksonMthembu_) April 26, 2020

"In response to the request made by the government of the Republic of South Africa, the government of Cuba has decided to support the great efforts that are currently made by South Africa in containing and arresting the spread of the coronavirus," according to Cuban ambassador Rodolfo Benítez Verson.





"They will be deployed in different provinces of the country in accordance with the strategic plans elaborated by the Department of Health."
Cuban 'army of white robes' assist across the world
In the past, the Caribbean island nation has availed its "armies of white robes" to assist largely poor countries in the world in fighting epidemics, including the Ebola outbreak in Africa.
According to trtworld.com, Cuba, which has confirmed 1 337 cases of the virus at home and 51 deaths, has one of the world's highest number of doctors per capita and is has been lauded for its focus on prevention, community-oriented primary healthcare, and preparedness to fight epidemics.





Cuba has sent about 1 200 healthcare workers to vulnerable African and Caribbean nations since the outbreak of the pandemic, as well as to European countries, such as Italy, that have been hard hit by the coronavirus.
"Cuba has already thousands of health professionals in 21 countries across the globe to assist in the fight against Covid-19," the embassy said in its statement.